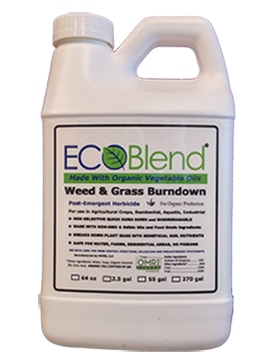 EcoBlend Weed & Grass Control Burndown (5g Case)
Regular price $180.00 Sale
Pollinator Site Prep
Use to get rid of weeds & woody stem plants and prepare soil before planting of pollinator plants. Optimal for use on areas containing small amounts of grasses or easy to kill grasses and more woody stems and weeds.
Product Description
—OMRI Listed for for Organic Use. Certified FOR ORGANIC PRODUCTION by QCS. Compliant with USDA National Organic Program standards for use in organic production.
A highly effective patented formula made from fatty acids of plant oils that quick kills weeds, vegetation and poisonous plants like poison ivy. It is a natural alternative to chemical based herbicides without the harmful effects to watersheds and the environment. It is safe to use around humans and animals. EcoBlend Weed & Grass Control Burndown breaks down plant mass into beneficial ground nutrients.
The EcoBlend Burn Down Option is Non-Systemic for use as a Non-selective control. CAN REPLANT IN 3 DAYS!