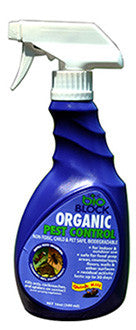 Bio Block® Residential Pest Control Trigger Spray 16 oz (Case of 9)
Regular price $76.27 Sale
PRODUCT DETAIL: KILLS INSECTS ON CONTACT • DEET FREE • NON-TOXIC • CHILD & PET SAFE • BIODEGRADABLE • FOR INDOOR & OUTDOOR USE • Not For Vegetation Use
Bio Block® Organic Pest Control kills insects on contact. Use on surfaces and other materials to repel insects, ticks, roaches, ants, rodents, and other pests from treated area for 1 month on indoor areas.

May damage vegetation. Do not apply to vegetation. For pest control on vegetation use EcoShield Pest Control products.
Information about human & environmental toxicity of Sodium Lauryl Sulfate (SLS) here.